What we do
Who we are
Proudly providing Filipinos with accessible and affordable protein for over 50 years, Sunpride started with banana chips and vermicelli before diversifying to canned and frozen goods. This proud legacy continues on with every new brand and meat product it develops for new generations of Filipinos to enjoy.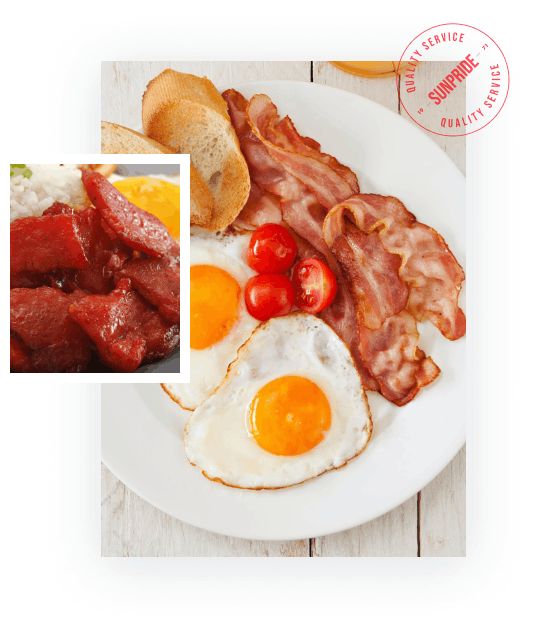 ---
Over 1,000+
employees across Visayas & Mindanao.
---
100 Brands
that bring quality, accessible food to every Filipino dining experience.
---
50 Years
of providing quality and affordable protein.
---
Mission
We strive for excellence in everything we do by fully valuing our employees, business partners, and stakeholders.
Vision
We bring satisfaction and joy to every dining experience by producing accessible and affordable quality protein products.
Our Achievements
Certifications
With its compliance to the Good Manufacturing Practices (GMP) and Hazard Analysis & Critical Control Point (HACCP) standards set by National Meat Inspection Services (NMIS), the remarkable food manufacturing operations and commercial services of Sunpride are credited from its total quality management, to the highly trained staff and employees who are committed towards developing and continually improving the production of safe, unadulterated and wholesome products available in the market today.
Certification for Good Manufacturing Practice (GMP) since 2004
Certification for Hazard Analysis and Critical Control Points (HACCP) since 2006
Awarded "Best Meat Processing Plant" and given "AAA" Accreditation by the National Meat Inspection Service (NMIS)
Become a sunpride partner today
As Sunpride continues to the next 50 years, be part of our growing community in supplying affordable quality meat products.
Get in touch with us